Contest: Simple Mini-game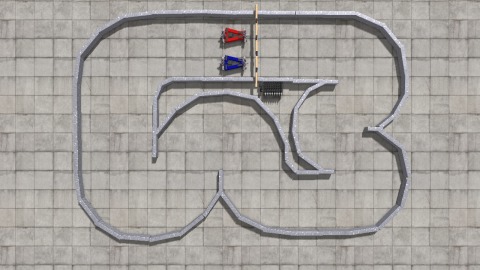 This contest has ended. Thank you for all your great entries. Please check out the winners and highlighted entries below!
Welcome to the first official Principia building contest! The topic for this contest is simple mini-games. Come up with a simple, single-player mini-game idea that is fun and engaging.
What kind of mini-game? Anything! It can be based on an old classic (like pinball), or a completely new kind of mini-game created by you.
You can use the points system, or set your own rules by using the WIN-socket on the game manager to define when the game is won.
First place receives a golden trophy that will be added to your user page and next to your name everywhere your name is visible.
Second place receives a silver trophy.
Trophies are permanent and you can collect infinitely many should you just win enough competitions! The more you have, the higher you will land in the Leaderboards (there will also be other kinds of leaderboards, like best average level rating and more).
Start building! You have until next Friday!
Rules
The player must be able to complete the level in some way, there must be a goal somehow. Don't just submit a cool vehicle and call it a mini-game!
Help
Wiki page on how to create a mini-game (Please help expand the article, and feel free to create new articles on the wiki site):
http://wiki.principiagame.com/wiki/Creating_a_Mini-game
How to submit an entry: Once you have uploaded a level, browse to it on the community website and choose "Enter level into contest".
Discuss this competition in the forum: http://bithack.com/forum/viewtopic.php?f=6&t=4016
How to Submit an Entry
After you have uploaded your level, browse to its level page, choose the correct contest and click "Enter level into contest".
Entries