Contest: Adventure Boss Fight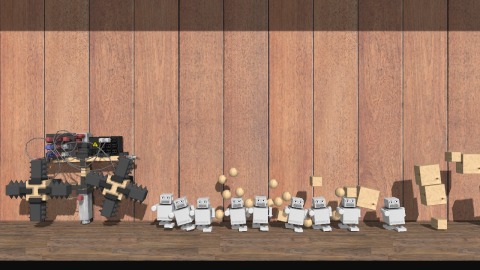 This contest has ended. Thank you for all your great entries. Please check out the winners and highlighted entries below!
Welcome to the second official Principia contest!
The topic of this week's contest is to create an Adventure Mode boss fight! Use your creativity to build a boss that is fun and challenging to fight. The boss can be a vehicle, a stationary contraption, a robot, flying thing, or whatever!
How the boss is killed is completely up to you. It can range from just avoiding him long enough, to drowning him in explosives, or simply touching his weak spot.
Prepare your building fingers! As always, you have until next Friday! Good luck!
Rules
The level must be adventure mode. It must be obvious (and preferably rewarding for the player) when the boss dies, but using the Game Manager to finish the game is not required.
Help
See the wiki-page on how to create an adventure mode boss for help: http://wiki.principiagame.com/wiki/Creating_an_Adventure_Boss
Forum thread for this contest: http://bithack.com/forum/viewtopic.php?f=6&t=4057
How to Submit an Entry
After you have uploaded your level, browse to its level page, choose the correct contest and click "Enter level into contest".
Entries