Pro Contest: What the hell is that?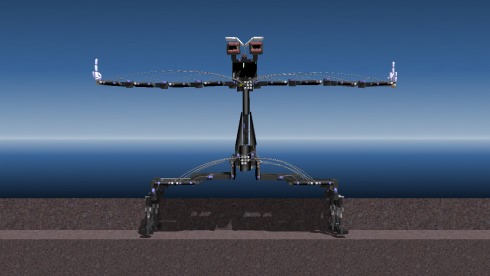 This contest has ended. Thank you for all your great entries. Please check out the winners and highlighted entries below!
Welcome to the third official Principia Pro Building Contest!
The topic this time is to create a machine that surprises people with its weirdness, purpose, funny look or over-engineered methods. What it does, how it does it and why it does it is completely up to you. The machine doesn't even have to do anything.
You have four weeks to build, submit your entry before Friday, June 6th.
The winner gets a Black Diamond Trophy worth 12 points, there are currently only two people who have a Black Diamond trophy - TechZ and Rubicon.
The first runner-up gets a gold trophy worth 5 points
The second runner-up gets 2 silver trophies worth a total of 2 points.
Tips and Hints
Pro Contest judging & general rules
Pro Contest entries are judged very hard, we will provide feedback to each valid entry and allow you to make any improvements at any time before the contest ends. Below is a list of things that can get your level disqualified:
Too simple or irrelevant
Too much lag
Involve too much manual camera work
Any interaction should be intuitive and not guess-work
How to Submit an Entry
After you have uploaded your level, browse to its level page, choose the correct contest and click "Enter level into contest".
Entries