Contest: Rube Goldberg Machine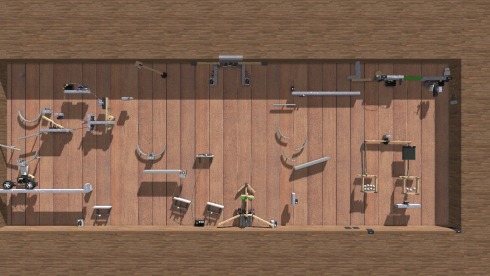 This contest has ended. Thank you for all your great entries. Please check out the winners and highlighted entries below!
Welcome to the 26th official Principia Building Contest!
The topic of the week is to create a Rube Goldberg machine! Here's the definition from wikipedia: A Rube Goldberg machine is a contraption, invention, device or apparatus that is deliberately over-engineered or overdone to perform a very simple task in a very complicated fashion, usually including a chain reaction.
The more complicated and advanced it is - the better. The level should be fun and easy to watch, preferable a custom level with no player robot but some exceptions can be made depending on the level. Use a cam targeter if needed.
You have until next Wednesday (15th October) to submit your entry. The winner receives a Golden Trophy and the runner up gets a Silver Trophy! Good luck!
Tips & Help
Example levels by other players
Please see the wiki for help and useful tutorials
Rules
No old levels or derivatives.
How to Submit an Entry
After you have uploaded your level, browse to its level page, choose the correct contest and click "Enter level into contest".
Entries