Contest: Peculiar Vehicles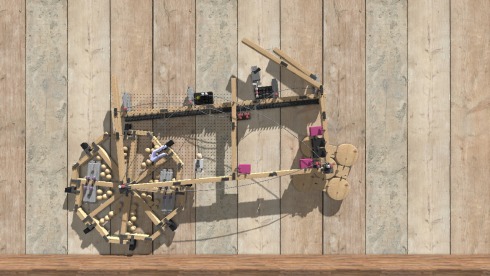 This contest has ended. Thank you for all your great entries. Please check out the winners and highlighted entries below!
Welcome to the 27th official Principia Building Contest!
The topic of the week is to create a "peculiar" vehicle. A vehicle that is designed in a way that is out of the ordinary. Perhaps it has some very odd and quirky mechanics or it's simply a very peculiar looking one. Use your imagination to come up with interesting and unique ideas for your vehicle.
You have until next Wednesday (October 29) to submit your entry. The winner receives a Golden Trophy and the runner up gets a Silver Trophy! There's also a chance for well made entries to be featured on the front page. Good luck!
Tips & Help
Building a Vehicle, Part 1: CT Mini for Forward and Reverse
Please see the wiki for help and useful tutorials
Rules
The vehicle must be able to move (controllable or not, doesn't matter)
No old levels or derivatives.
How to Submit an Entry
After you have uploaded your level, browse to its level page, choose the correct contest and click "Enter level into contest".
Entries