Contest: Welcome Home, Robot!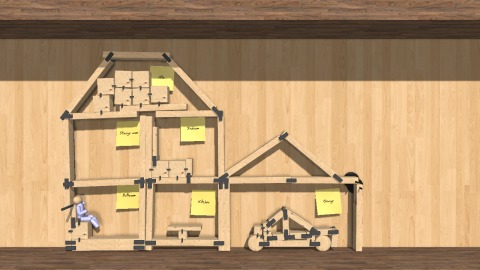 This contest has ended. Thank you for all your great entries. Please check out the winners and highlighted entries below!
Welcome to the fourth Official Principia Building Contest!
The topic of the week is to build a house for the adventure robot.
What cool features does his house have? What can be found outside his house, does he live in a peaceful or dangerous place? Does anyone else live nearby? You tell us!
As usual, the winner will receive a gold trophy worth 5 points and the runner-up a silver trophy worth 1 point.
Good luck! You have until Friday, December 13th, 13:00 GMT.
Rules
The level type must be adventure!
How to Submit an Entry
After you have uploaded your level, browse to its level page, choose the correct contest and click "Enter level into contest".
Entries