Contest: Dummy vs Robot!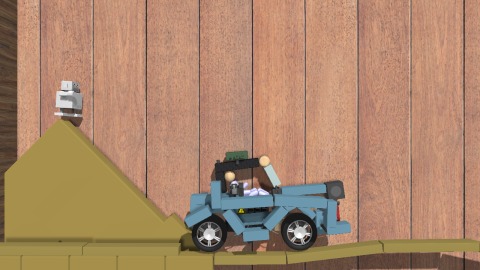 This contest has ended. Thank you for all your great entries. Please check out the winners and highlighted entries below!
Welcome to the sixth official Principia Building Contest!
The topic this time is to create a fun and interesting competition between the Robot and the Dummy, who gets to the goal first? How do they get there? What happens when the winner gets there? Why are they competing to get there? You decide!
Please clearly mark where the goal is.
As usual, the winner will receive a golden trophy, and the runner-up a silver trophy.
You have until next Monday (January 13th) around 13:00 GMT to submit your entry.
Tips
Use the Cam Targeter to control what the camera is following, and the Cam Zoomer to control the zoom.
Try to minimize manual camera movement as much as possible.
Rules
The level must only include one dummy and one robot. The level type must be Custom.
How to Submit an Entry
After you have uploaded your level, browse to its level page, choose the correct contest and click "Enter level into contest".
Entries