Ball game v1.3.3
kej1

- Custom level - from Android
Feel that you are a ball!
You can jump and roll!
Can you finish this level?
Take the power of Fire!

Controls:
Top slider - roll
Bottom slider - jumping force control
F - Jump
Rotary - jumping angle control
G - Fire power!

Tip: score will add for every jump (250*force_of_jump) and roll (1*force_of_roll for every 0.008 seconds).

Try and comment!
v1: added simple track
v1.1: added dead zone and high score submissions
v1.1.1: game over bugfix.
v1.1.2, v1.1.3: minor bugfixes
v1.2: remaked track, added new power (G button)
v1.3: made track harder, added animation of fire, minor bugfixes and improvements, added PC left/right roll control (A/D)
v1.3.1: a bit longer ending, minor improvements
v1.3.2; v1.3.3: bugfixes

Credit to Demon666 for his animation of fire!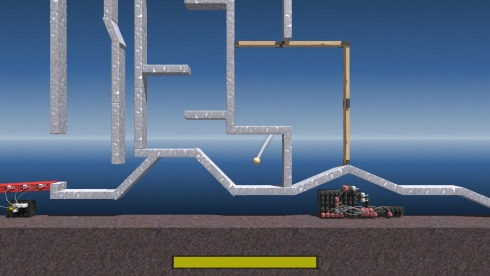 Revision #11, updated Oct 05, 2014
Views: 1528 Downloads: 374 Unique objects: 1 Total objects: 271

LEVEL ID: 11044