Classic car 20 (Military radar)
Sasha from Russia

- Custom level - from Windows
Yes! THE 20th CAR! "Iron Twelve" !
Because of the second jubilee, I have created the Best car in my project (I think, in principia ever too).

Features:
1. Super millitary style
2. 4x4
3. Modern Lua Weapons: (Speed Gun with giroscope; mini cannon and RADAR WITH HOMING SYSTEM)
4. Awesomeness sound effects.

Radar:
Homing system and radar work fastly, effectively and without any little bugs.

Radar can search the target on any big or small distanse and calculate this distanse!
Radar get a raycast and move it to the right until the target detecting. If the target was detected, raycast returns to the previous position and the process repeats. The last step - push the button to activate the Homing sistem. Missile shots the target with 100% chance.
That's all easy!
Cool?

Note: Homing Missile can destroy moving targets too (with 100% chance), but I don't show it in my level.



Enjoy!
Post likes and comments, please! The 20th car...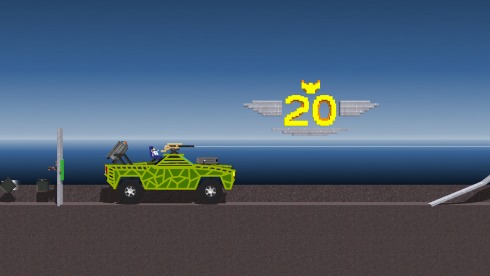 Revision #6, updated Jan 14, 2017
Views: 2211 Downloads: 827 Unique objects: 1 Total objects: 1064

LEVEL ID: 16948