Tic Tac Toe for Two
zardOz

2

- Custom level - from Android
A suprisingly massive build even without AI... I do plan on trying to get some kind of "not just random" AI going, however I've already scrapped Some SFX and some more graphics due to lag.

Currently Lua is only for the game grid because the Pixels will block the Cursor Field.

The bottom left If gates make two sets of unique Jumper values to each of the 9 possible XO Cursor Field options.

Right side determines starting player and current player, and displays it with Pixels. Then sends the correct unique value from above.

The left side activates the correct frequency depending on current player, then locks out the other option for that square and then locks out the ability to turn off the XO thats was activated.

The top searches for each of the 16 possible winning combinations and sends to the appropriate prompt. I also had a initial tick problem with these I had to solve which is what the Fifo setup at the top is doing.

The bottom right will call a "draw" if all spaces are covered by either type.

The Cursor Field drag feature wasnt doing much so I added some sparsified click sounds to it.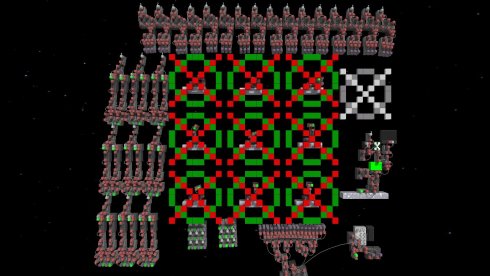 Revision #2, updated Feb 01, 2014
Views: 7416 Downloads: 2862 Unique objects: 28 Total objects: 1041

LEVEL ID: 2480