Inverter Wheel
JOELwindows7

- Custom level - from Android
I just want to make an inverted wheel, where the motor becomes the active axle wheel instead.
Turns out, my experiment mutated into a huge monster. Lol!
Control type: 0, general
Slider - Accelerate
A - Reverse (hold)
F - Brake (hold), incrazyboyy's Technology?
G - ABS modes: Auto, On, Off. Auto activates only at certain high speed, On always ABS, Off never ABS
H - Komfort run modes: On, Off. On means accelerate slowly, progressively using moving average. Off means raw slider value.

Update:
Added the Sublayer planks for the springy wheel. More stable.
Template inverter wheelo now placed on top of platform.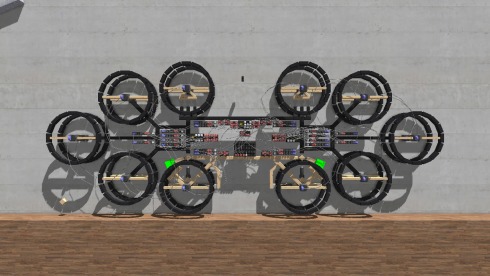 Revision #2, updated 5 days ago
Views: 191 Downloads: 97 Unique objects: 1 Total objects: 621

LEVEL ID: 27618