Spooky Dungeon RPG v4.1.1!
zardOz

2

- Custom level - from Windows
v4.1.1: transitioning to coding lua on PC,
*fixed some graphics issues for PC I couldnt see on my phone
*Added text hud buttons and Z-info button

!!!New Features for v4.0!!!
*v4.1: Animated Torch Pillars, Fixed fireball not passing over water and fireball assing through wall if moving forward.
*4-direction Fireball spell and graphics
*Speed boost spell and graphics
*4-direction animated sword attack!
*Fireball vs walls collision code
*Mana/regen system with mana bar
*Hit points/regen system with Hp bar
*Deadly lava pit! (For something to test the HP with...)
*Next update... a monster that isnt completely inept!
*Pending: Doors, Barrels, gold, exp, hp/mana potions. New floor layout..

Pre 4.0 Features:
*Repeating floor tile system, only draws tiles within 7 of the player.
*Spooky circle of darkness! (See "Anti-circle" level),
*Efficient Collision detection vs walls by table location code, and system to draw walls from same table.
*Fully animated Kain the Dragoon Knight character! It was very tedious... but very cool!

Lag free and proud to be!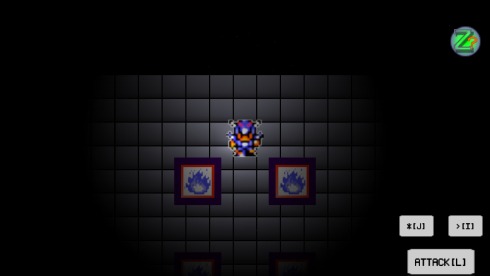 Revision #18, updated Feb 07, 2015
Views: 8219 Downloads: 2998 Unique objects: 1 Total objects: 53

LEVEL ID: 6035