Basic Parts Tutorial #4: Power Supply/Y-splitter (updated)
zardOz

2

- Custom level - from Android
zardOz's Principia Tutorials #4

Need help? This example shows how the 24v Power Supply works along with how to split your control signal with the Y-splitter.

The bottom left shows how multiple connections do not lower the power output to each device.

The bottom right shows how to independently control multiple devices with a single Power Supply . The lower right RC slider controls the power for all three cranks. The right two cranks are controlled with a single slider with the help of a Y-splitter.

The center has a multi-purposed Power Supply, it powers the 7 fans on the left and with the remaining two slots it powers the two wheels on the cart. The cart is made into single control all-wheel drive vehicle with the Y-splitter.

UPDATE: The top shows how to use the Y-splitter to wire multiple Supplies to one control, this configuration can control up to 54 powered objects with one slider.

Open the level in sandbox to explore.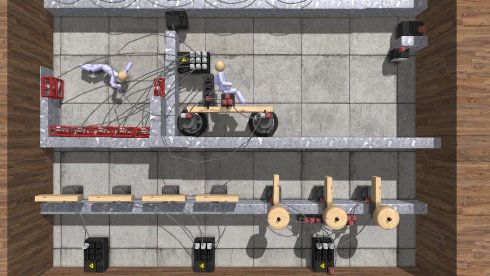 Revision #2, updated Nov 19, 2013
Views: 2259 Downloads: 854 Unique objects: 15 Total objects: 100

LEVEL ID: 759