Wok's Ultimate Spy SUV!
wokstation

2

2

- Custom level - from Android
Update: now with tricksy terrains!

*Updated again!*
Turbo rocket power doubled! Now it has some proper spy-like oomph!
Jumpjet power increased (about 75% inc). Now she flies. A bit. Switch to turbo after activating a jump to move forward in the air.
Terrain extended. More stuff to flip the car over on!

Update 2016: finally removed beam connections. Add timer and high scores, so now it's competitive!

*Note: The brakes are ON by default. Turn them off to move!*

"Now a real killer, when he picked up the ZF-1, would've immediately asked about the little red button on the bottom of the gun."

There's no room for the kids in this WUSS, because it's packing. concealed beneath it's school-run exterior lays an assortment of deadly devices, both offensive and defensive! Features include a devastating handful of spikes to slow pursuers, the "Hedgehog" bomb launcher, forward mounted gun, two kinetic warhead missiles, a turbo for added speed & acceleration, a "jump" function deploying both thrusters and the suspension system, adjustable ride height, active braking control and more!

Controls:
Left: Weapon selection slider. Fire.
Right: Speed/direction slider. Brake toggle. Ride height adjustment sliders.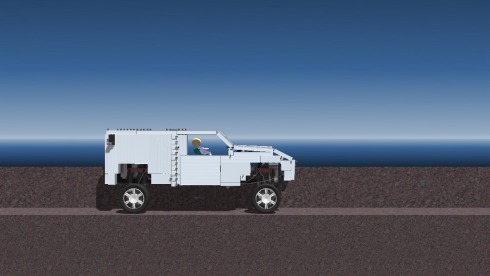 Revision #5, updated Jan 11, 2016
Views: 7431 Downloads: 2517 Unique objects: 40 Total objects: 476

LEVEL ID: 8069