Basic Parts Tutorial #18: Synth (beta) and Cursor Finder
zardOz

2

- Puzzle level - from Android
zardOz's Principia Tutorials #18

(IMPORTANT!) Update to 1.2.1 for proper sound output.

Need help? This example shows the basic function of the Synthesizer and Cursor Finder.

With the help of Sdac's Cursor Finder Button Ive made an array of 60 Synthesizer noises for you to sample. Touch each cylinder to turn on and off each noise, touch the "i" info box on each one to see the settings. Try activating two or more at a time to see what crazy combinations you can make.

There are millions (update1.2.1: billions) of setting combos, all examples show the Default 220bass/440treble setting in various ways. The new settings at the bottom are also all default.

Top row: Square Waveform
2nd Row: Pulse Waveform
3rd Row: Sawtooth Waveform
4th Row: Square Waveform, Gizmolympic champion Rich11292000's Distortion Waveform is sent to In1...

Had trouble with the Sine waveform so no examples. If editing: the synth(beta) is sticking out the right of the cylinder, and the prompt for each is under the left side, should be able to edit it without moving the cover. Add this info box to all of your tutorials for easy info that cant be put on a Sticky note!

Open in Sandbox to Explore.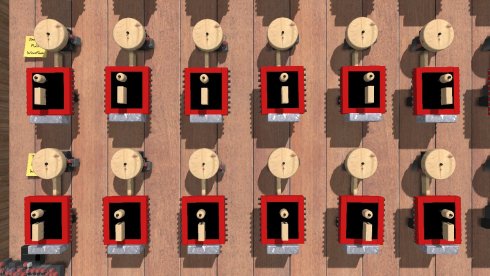 Views: 3614 Downloads: 1480 Unique objects: 31 Total objects: 1843

LEVEL ID: 962